Kirmanj Faraj, M.D. FACC
Board Certified Interventional Cardiologist
Registered Physician in Vascular Interpretation
Diploma in Advanced Heart Failure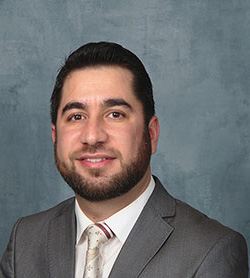 Dr. Faraj finished his medical residency at Capital Health Regional Medical Center in New Jersey and was awarded by both attending staff and internal medicine residents for best in exemplifying the academic, medical and social attitudes of excellence.
He went on to complete a one year Advanced Heart Failure fellowship training and subsequently completed three years of general cardiology fellowship training at Albert Einstein Medical Center in Philadelphia. He then moved to Morgantown West Virginia, where he successfully completed his Interventional Cardiology Fellowship training at West Virginia University Hospital.
Dr. Faraj is very passionate about his job and strives to provide the best care for his patients. His greatest pride and joy comes from being a father to his three kids. He loves to spend time with his family and create memories through traveling. Dr. Faraj loves grilling for family and friends and enjoys playing soccer.
Board Certifications
Interventional Cardiologist
Cardiovascular disease
Internal Medicine
Nuclear Cardiology
Echocardiography
Special procedures:
Coronary angiography and complex percutaneous coronary intervention.
Peripheral angiography and peripheral vascular interventions.
Venous angioplasty.
Trans-catheter Aortic Valve Implantation (TAVI).
Pacemaker and defibrillator device (ICD) implantation.
Implantable Loop Recorder placement.