Sanjeev Bhatta, M.D. FACC
Board Certified Peripheral Interventional and Cardiovascular Disease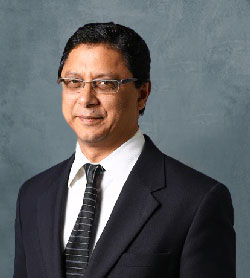 Dr Sanjeev Bhatta is a board-certified Cardiologist, practicing in central Florida for the past two decades. Having completed his Internal Medicine training in St Barnabas, New York he then went on to do his Cardiology fellowship from the University of Florida in Gainesville in 2002. After twelve years of practicing in The Villages and Leesburg locations he founded Cardiac Specialty Institute in 2014. Since then, the team with its impeccable reputation has rapidly grown to its current form.
Dr Bhatta has strong interests in the fields of preventative and general cardiology with all-round exposure in diagnostic cardiology including echocardiography, nuclear imaging, arterial studies and other modalities. He has over two decades of experience in invasive cardiology as well as in the management of venous diseases and complex peripheral vascular interventions.
He maintains memberships in multiple medical organizations, has received recognition in the field of medicine from different institutions and also is proudly associated with many notable charitable foundations.
Dr Bhatta originates from Nepal and believes in a shared goal for all in his practice, as well as in his daily life. His interests include history and travelling the beautiful countryside of the United States.
Board Certifications
Cardiovascular Disease
Internal Medicine
Specialties
Cardiology
Interventional Cardiology
Invasive Cardiology
Nuclear Radiology
Conditions Dr. Bhatta Treats
Angina and Acute Coronary Syndrome
Pulmonary Valve Disease
Conditions Dr. Bhatta Performs