Peripheral Vascular Disease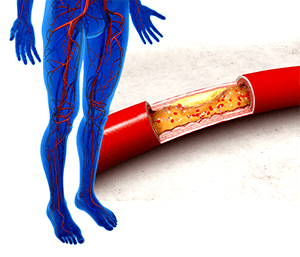 Peripheral vascular disease very commonly accompanies coronary artery disease. Patients will often report pains in the lower extremities especially with walking. It may progress to an extent where some patients may even have pain at rest or poorly healing wounds or ulcers of their feet. We are now able to easily remediate blockages in the leg arteries using various atherectomy devices as well as angioplasty and stents including drug coated stents similar to those used in the coronary arteries.
In addition we have available several investigational devices for management of all peripheral vascular disease including stent grafts for managing aortic disease, stents for managing carotid disease, drug-coated balloons and stents for managing peripheral vascular disease, and atherectomy devices to clean out the plaque in the lower extremity arteries. We also have available cell therapy protocols for patients who are not candidates for standard revascularization therapy for critical limb ischemia and non-healing wounds.